Charity, Health
Sexual health website for charity FPA
Sexwise is a national campaign from sexual health charity FPA with funding from Public Health England. IE Digital designed and built a new website – complete with interactive contraception comparison tool – and IE Brand created the vibrant new Sexwise brand.
---
---
IE Digital has launched a new website for sexual health charity FPA, to support its new campaign, Sexwise.
Sexwise.org.uk gives 16-50 year olds access to reliable information and advice about contraception, pregnancy, STIs, and pleasure. It provides accurate, evidence-based information, delivered in way that's open, honest and fun.
Mapping the user journey and testing the user experience
IE's digital consultants mapped out the user personas and key user journeys for the site, looking at a range of audiences from GPs and sexual health nurses, through to members of the public looking for information on contraception, erectile dysfunction, or simply spicing things up in the bedroom. We also looked at the needs of the FPA team in managing the Sexwise website and keeping content up to date, as efficiently as possible.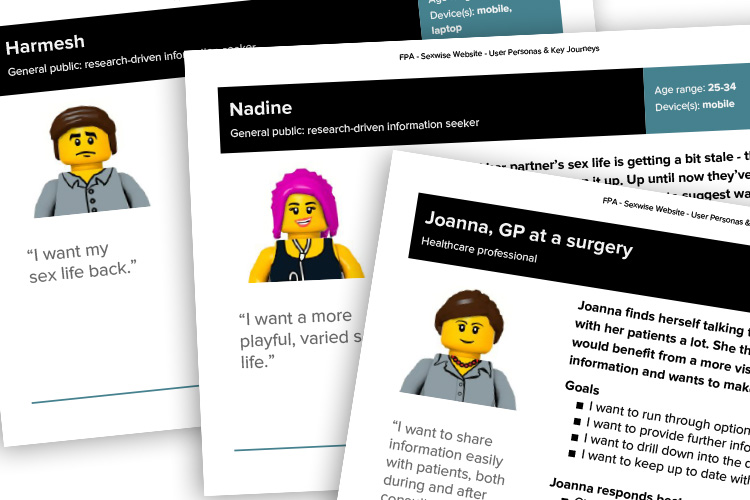 We then built a rapid prototype to test the user experience. The first Alpha prototype was focused on navigation. Following feedback from our clients at the FPA, we built a second-stage Alpha, covering around 90% of the functionality, and tested it with real users. We then proceeded with a Beta build in Drupal 8 with a series of development sprints, before testing and deploying the final product. 
Contraception comparison tool
The key piece of functionality for the website was the contraception comparison tool. The different types of contraception can be filtered by method, type and effectiveness, as well as whether they protect against STIs and the effect they have on periods. Alternatively, different contraception options can be compared side-by-side. 
Bekki Burbidge, FPA's Deputy Chief Executive explained, "For the website, IE's digital consultants helped us to define the key user personas and their journeys. The content is clearly presented and easy to navigate, while the contraception comparison feature is a useful tool to help people make informed decisions about what's right for them. We enjoyed working with the IE team and we're really delighted with the end result."
An inclusive, sex-positive sexual health brand
The new brand – created by IE Brand – takes an inclusive, sex positive approach to safer sex. The Sexwise logo and visual identity use vibrant colours, collages and background effects, which can be dialled up to portray a feeling of euphoria, energy and ecstasy, or dialled down when addressing the more serious side of sex.
Industry experts have been quick to praise Sexwise, calling it "Rather gorgeous", "Well worth checking out" and "Brilliant", among other great feedback.
Get Sexwise for yourself at sexwise.org.uk
The internet is a minefield when it comes to finding accurate and relatable information about sexual health. And yet this is where huge numbers of people are getting their sex education. Sexwise is a much needed solution to this problem – a good-looking, informative site that's easy to navigate, providing essential information to the public about safe and healthy sex and relationships.

Dr Verity Sullivan
Sexual health doctor