Charity
New website brings in donors for charity SVP
Keen to raise awareness, attract volunteers and increase online donations, the St Vincent de Paul Society (SVP) asked IE Digital to develop their new website. The new Drupal 7 site has seen a significant increase in online donations.
---
---
The St Vincent de Paul Society, SVP, wanted to raise awareness of their work among the Catholic community and beyond. They'd traditionally kept a fairly low profile in the UK, so their existing website was very dated.
SVP turns concern into action by visiting and befriending over 80,000 lonely and isolated people each year in England and Wales, providing practical assistance to anyone in need. To raise their profile as a befriending charity, SVP needed an attractive, informative and up to date new website, with three main objectives:
To allow people to learn what help is on offer, and request the support they need.

To attract new volunteers and members.

And to provide a crucial fundraising channel, by driving online donations.
Before work on the new site began, we migrated SVP's existing Drupal 7 website across to IE Digital for secure hosting, ongoing support and maintenance.
IE Digital's consultants looked at the user journeys and created a user experience to help SVP achieve its main objectives, and the site's users to find what they were looking for. Donations have been given due prominence on the site, and we recommended PayPal as the most cost effective donation system for SVP, due to its integration capabilities and competitive rates.
Secure member area
IE's expert development team extended SVP's existing Drupal 7 build, re-skinning it for a much more attractive and intuitive user experience. The content management system (CMS) allows SVP to create, edit and re-organise their content easily. The site integrates with SVP's CRM member management system in CiviCRM, and IE built a secure area for their 10,000 members – and charity staff – to login and access important resources. We also extended the reporting functionality to help SVP's local conferences (or branches) to demonstrate their impact more easily.
Using storytelling to engage volunteers and donors
When we first met SVP, we were particularly struck by the number of great stories they had. Letters of thanks from their beneficiaries, and great examples of the enormous impact that's made by SVP's 10,000 volunteer members. But these success stories weren't evident on the old SVP website.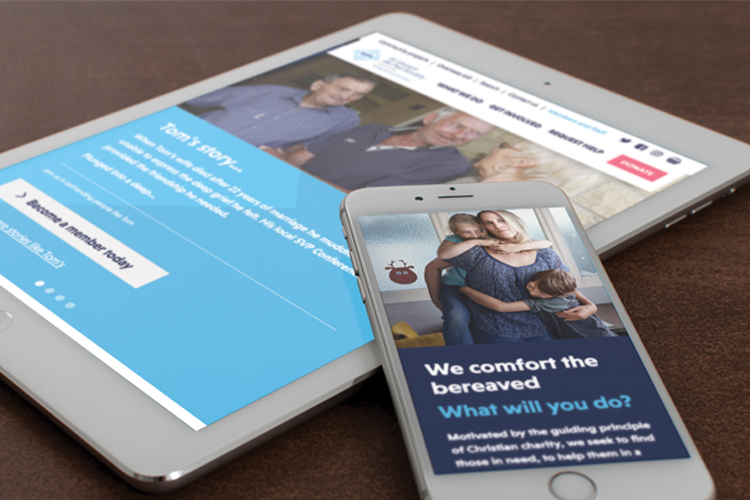 For the new website, IE gave these compelling stories pride of place, to demonstrate to SVP's members, staff, supporters and help seekers how much great work the befriending charity does, and the support they bring to the communities they serves.
Doubling visitors to donations pages
The benefits of SVP's improved user experience are clear. The site now has a 15% lower bounce rate, and visitors are spending 27% longer on the site.
Crucially, SVP have seen a significant increase in donations through the website, with traffic to the donation pages more than doubling year-on-year!
Our consultant reminded us how many wonderful stories we have to tell, and the value of putting them front and centre on the new website. IE Digital did an excellent job of improving the online user experience, and the new site is helping us to get our mission and message out into the world. Ultimately, it's helping us to achieve our objectives of recruiting more volunteers, attracting more donations and helping more people.

Ken Madine
Head of Fundraising, Communications and Marketing, SVP