Technical, IE News
Hosting Drupal and WordPress sites on Pantheon
IE Digital have recently moved most of our client websites onto Pantheon's hosting environment, which allows for faster sites, efficient security updates, quicker bug fixing, instant scaling and much more besides.
---

---
We've recently migrated the vast majority of IE Digital's Drupal and WordPress client websites onto the Pantheon platform, which has boosted our productivity immensely.
Here's a quick run down of IE Digital's experience with Pantheon to date:
Quicker code updates
Previously, to investigate a data problem or fix a bug on a client's site, we generally had to work on a staging environment that might be out of date, or take a long time to create a new one. The alternative was to make changes on the live server. All of these options involved some compromise of either risk or efficiency.
Now, we can quickly and easily take a separate copy – or multiple copies – of the live site within Pantheon's Multidev environment. Our developers can safely play around, test the copy site and break it if they need to, with no impact on our clients or their users.
Once the problem is resolved and the code change is complete, it's a really seamless process to implement it on the live site – it's low-risk, dynamic and fast.
Any copies we make of a site on Pantheon are held securely, catalogued clearly, and easy to delete completely as soon as we've finished with them.
Easier updates across multiple sites
We regularly make security updates across all of our clients' websites, which used to be a really time consuming job for our support and development teams. This is now super-efficient thanks to Pantheon's custom upstreams and automation, which allow us to throw code around easily and update all our sites together, using a single command and in a fraction of the time.
Pantheon also automates the process of renewing HTTPS (SSL) certificates, ensuring our clients' users are always protected without the risk of human error. It's quick, reliable and disruption-free.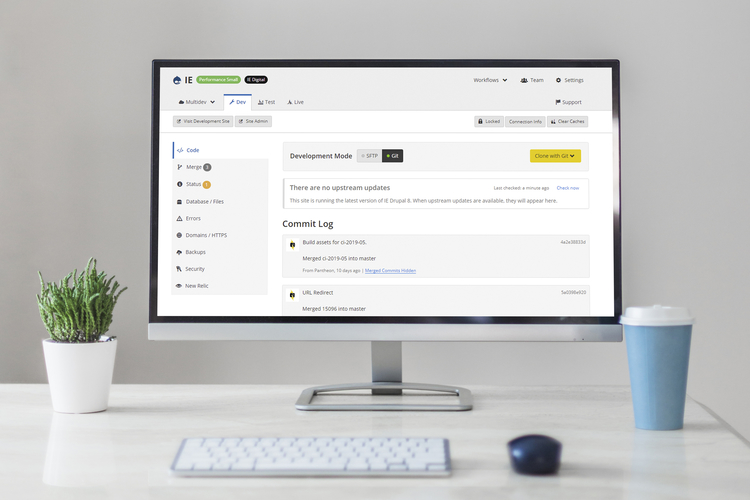 Future-proof and scalable
Many hosting platforms aren't flexible enough to scale up quickly. If we needed to increase performance at higher user volumes, for example, we'd have to take the site offline to move it to a bigger server. Likewise adding more sites to our hosting platforms would have been more of a challenge. Now, even our biggest Drupal sites can be accommodated and extended instantly.
Hosting new websites
Adding a new client site to Pantheon's hosting environment is really straightforward. It's sped up our clients' sites, our workflow, and made us much more efficient, and everything is ready to go in a matter of minutes.
Tools and plugins
Pantheon has been built specifically with Drupal and WordPress sites in mind, with additional tools and plugins built in to the platform. We can use New Relic to investigate any performance issues, and improve the search experience with Solr.
Compliant with EU/UK GDPR regulations
Naturally, Pantheon is fully compliant with European and UK data protection regulations under GDPR (General Data Protection Regulation), so we can be confident that our charity, health and education clients are in the best hands. Their servers are currently based in the US, but they're also planning to open a new EU data centre soon.
Top-notch customer support
Last but not least, we're finding the customer service team at Pantheon to be super-helpful, knowledgeable and timely with their responses, so our clients and our developers are very well looked after.
We're delighted that we made the move to Pantheon. Our developers love it, and it's enabled us to be much more productive for clients including Legal Choices, Sexwise, LABC and the University College of Osteopathy.
To fix a bug we can quickly and easily take a copy of the site, and our developers can safely play around, test the copy site and break it if they need to, with no impact on our clients or their users. Then it's a really seamless process to implement it on the live site – it's low-risk, dynamic and fast.

James Marsh
Head of Support, IE Digital