Charity, Health
Hand therapy app improves patient experience
IE Digital created a new health app for patients recuperating from hand trauma or surgery. The Hand Therapy app is now being used by clinicians at Chelsea & Westminster Hospital NHS Foundation Trust to improve outcomes for patients and drive clinical efficiencies.
---
---
CW+ is a charity that invests in financially sustainable innovations, facilities and technologies that improve clinical outcomes for patients at Chelsea and Westminster Hospital NHS Foundation Trust and beyond.
One such project is to support its 4,600 patients recuperating from hand trauma or surgery each year. Having met at the UK Health Show, CW+ commissioned IE Digital to build a hand therapy app, to enable healthcare professionals to prescribe a programme of hand exercises appropriate to the individual to aid recovery. This reduces the need for face-to-face appointments and improves patient outcomes.
Importantly, the app needed to be based on reusable components, providing a framework for future apps to be built more efficiently.
Rapid prototyping
IE Digital built a rapid prototype using Telerik, before evolving the product in the build phase. This enabled CW+ to quickly see what they were getting, give feedback and make changes as needed. We worked closely with the clinicians at Chelsea & Westminster Hospital's Hand & Wrist Unit, to ensure they would have full confidence in the final product and use it in treating patients. 
The app features a library of over 90 new instructional videos, which show how to perform hand exercises specific to a person's hand injury. The clinician uses an intuitive 'favourites' system to prescribe relevant content, which is supplemented with notes for each patient. Built-in reminders help patients meet their recommended exercise times and frequency.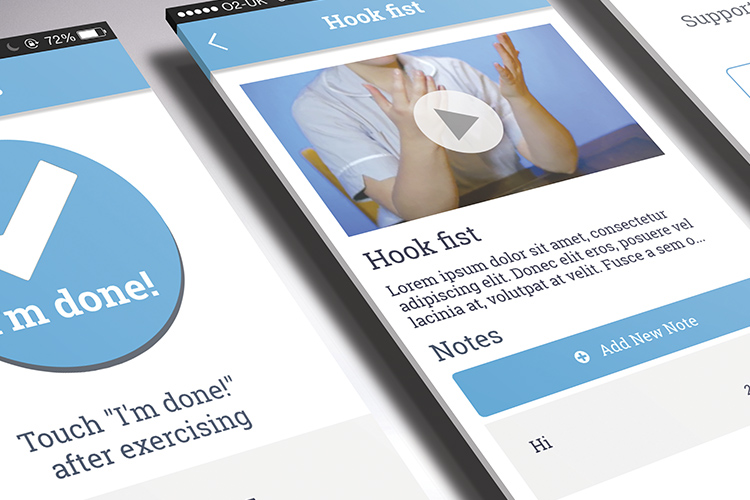 IE took care to build in efficiencies while building the app so that, where possible, components are reusable for future CW+ apps. We built versions of the app for both iOS and Android devices, which are now available to download.
A helping hand for therapists
One patient who has been using the app commented: "Making hand exercises a daily habit was the key to my recovery and the app was really helpful with that. The bite-sized videos enable hand therapy to be part of a daily routine, not just a hospital appointment."

James Varley, Finance Director at CW+, commented: "We were proud to fund this Hand Therapy app to provide patients with a simple, effective and easy way to access their hand exercises. The app developers worked really closely with the Hand therapy team to design the app and ensure it offers the best user experience for patients."
The app is just one of the many ways that charity CW+ makes care better for patients and their families. Although the project is primarily aimed at supporting staff and patients at the trust's two hospitals  – Chelsea and Westminster Hospital and West Middlesex University Hospital – CW+ intends to keep it open to help other areas of the health service
We are truly delighted with the app. As a clinician it has been brilliant to be able to use this in situ with patients as it's quick and easy to download and prescribe exercises. It making a real difference to the patient and therapist experience. Thanks for all your hard work and dedication to this project.

Hayley Fay, Senior Occupational Therapist, Hand Therapy Department
Chelsea and Westminster Hospital NHS Foundation Trust